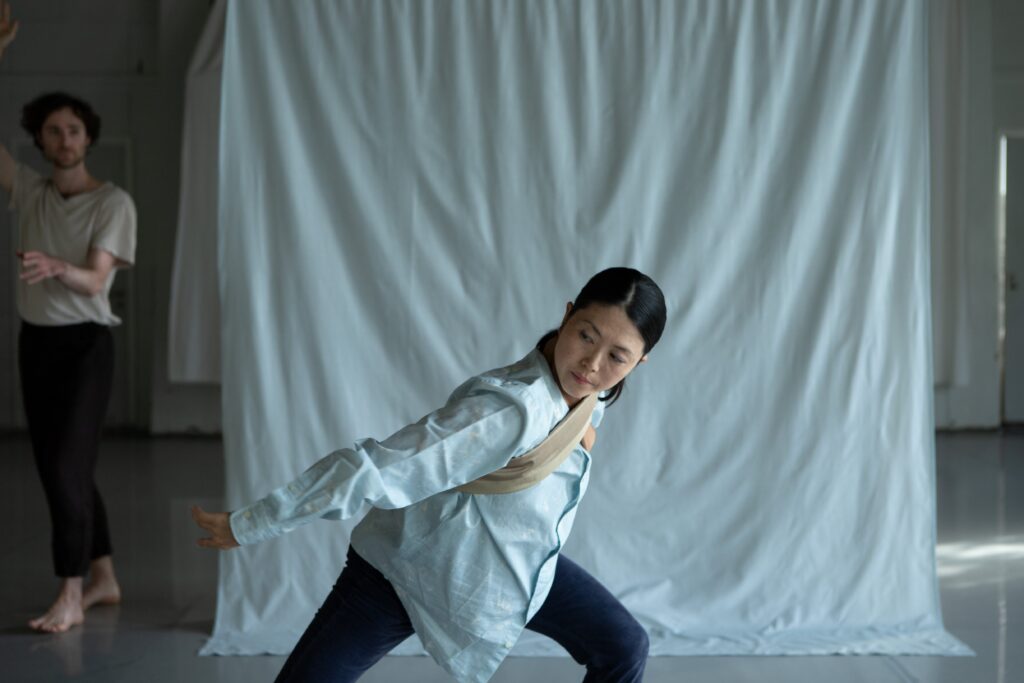 It's Tuesday.
It's late, but not too late in the evening, and Kyrie has agreed to meet me on zoom. Not for a long time though, as she has very important responsibilities that I don't want to compete with.
In Kyrie's arms lies her smallest child, her two-month-old daughter. I catch a glimpse of the soft, dark, fluffy hair at the back of the baby's head, and I feel a sudden physical memory. It's been 6 years since the last time I had a small baby myself, but the feeling I get when I see that special bond between them is permanently stored in my body. Kyrie explains to me how life is a bit of a rollercoaster at the moment. Her face and voice have a stoic quality, that special strength of someone who's in the center of the storm.
– It's difficult to balance everything.
Kyrie has three daughters who are all under 4 years old. Combined with that immense task, she is also very active as both a choreographer and a dancer. Her partner Love is also a dancer and choreographer, and they usually work together.
I suddenly remember how it was a few years ago, having had a very similar situation when my kids were small.  Kyrie explains the fragile situation, the complicated logistics; if one child gets sick, everything kind of falls apart. The topic is so familiar, and I think about how incredible it is that it actually works out most of the time.
– I'm just trying to be creative and not stop, Kyrie says.
She tells me how one side of her body hurts from carrying the children. She points to her shoulder area. I tell her that I remember that time of having really small kids as something that feels like it's never going to stop. The sleeplessness, the aches, the pains. But then when it was over, I thought "Did all of that really happen?" Kyrie laughs, it's an exhausted but beautifully warm and honest laugh. I join her, and for a moment we laugh together about the problems that arise along with the particular combination dancer/choreographer/mother.
I tell her that I think it's a beautiful struggle, which might be a strange thing to say, and I hope she doesn't take offense. Having small children is such an extreme experience, and that intense time lasts for a limited time only. But if it happens to coincide with a dance career, which is another extreme activity to be spending your days with; and which usually exists inside that same relatively small window of time; it creates a chaos of logistics and physical, mental and emotional exhaustion.
The next day I go to see Kyrie perform as a dancer in Gun Lunds piece "Neither" at 3: e Våningen. If I didn't know, there is no way I could have guessed that she has a 2-month-old baby and managed to fit this performance in between breastfeeding. Her strength is incredible. I think it is amazing that it's possible to do such a thing. One really needs to have a lot of love and passion to be able to combine those tasks.
We start talking about one of those passions, Kyrie's current work.
– The concept of the piece "Golden thread and broken pot" started already before the pandemic, 3 ½ years ago.
Kyrie tells me that she met Elie Marchand, a Canadian theatre director, through ASSITEJ (the International Association of Theatre for Children and Young People) in Norway. They kept in touch ever since and have been building their idea over the last few years.
– We made a script and created a collaboration with a composer and a scenographer, Kyrie explains. This year we got granted support from Kulturrådet so we can pay people properly. Things are finally coming together now. It's important to seek opportunities and to find collaborators… I'm interested in sharing, in building bridges between people from different backgrounds. We are all very different people who are involved in the project, and it can be challenging to work with a physical distance. It can happen that you think you speak about the same thing, but it turns out you're not… Sometimes through that misunderstanding something new and more interesting can appear.
This is the second piece that Kyrie makes for children.  She tells me that making children's pieces is not the only thing she does as a choreographer,
– I also make pieces for an adult audience. 
It was only recently that her piece "DAG", which was choreographed in collaboration with Love Hellgren, premiered at 3:e Våningen. Still, making children's performances is something that has come naturally in this period of her life. For a period during the last few years, she's been working as a dancer with Regionteater Väst, a company that performs for young audiences. Paired with the experience of having children herself, she saw a need and an opportunity to make something of substance, something that makes children think.
– There is a need for high quality dance performances for kids, Kyrie says, I see Sweden having a lot of interest in giving art to children, and that children get opportunities to see art, and I'm really grateful for that as a parent. For me it's also important to try to meet the needs of society with what I can give, and to have fun and be creative within that frame.
But being a creator is not a goal in itself, Kyrie explains to me.
– I continually ask myself, "What am I serving?", because if this was only for my own sake, I wouldn't be doing it.
She smiles a serious smile.
– It's just too difficult with the children and everything.
Kyrie tells me about having pain, about the difficulty of finding pleasure in dancing while having small children…
[And again, a big wave of physical memories well up in me. I suddenly feel another memory shoot through my body, a pure physical one, that contains the extreme freedom of movement, of my dancing body being a space, a time warp where nothing else exists for a moment. During the peaks of exhaustion, there was always that possibility that there could in brief moments also exist this kind of sanctuary in the midst of all the other chaos in life… Other days it felt nearly impossible.]
I'm quickly transported back to reality as Kyrie reminds me of that feeling of responsibility, of having a bigger purpose.
– It's a continuous question, she says thoughtfully. –The question "What am I serving? Why do I need to continue?" The piece "Golden Thread and broken pot" holds some questions that everyone can identify with, Kyrie says.
– Some of the inspiration is Kintsugi (the Japanese art of repairing broken pottery with gold).The piece also speaks about the relation to the other, and to home… What is home? What is family? In the performance I don't have a name, and there are two walls, two worlds… There are certain symbols in the piece that everyone can associate with.
Kyrie tells me that the performance gives associative hints through the movement language and through costumes and scenography, but that they are trying to communicate mostly through abstraction. But there is a strong theme, she tells me.
– The main theme is to find a family, a relationship, a friend. That is really important. We all need that.  Of course, it's possible to have a family but still be lonely, just like we can never really know someone else's story. So, we try to work with themes that deal with acceptance and inclusion.
We talk about how Sweden is becoming increasingly nationalistic, alongside most other countries in the world, Kyrie points out, also Japan.
– That situation creates the big question for myself and for all other adults, Kyrie says, What are we going to do about this situation? How are our children going to live in a society which is becoming less and less inclusive? If we don't take care of these issues in a deeper way now, who will influence our children? What are the messages that we can carry, along with the questions and the discussions they can bring?
In this piece, I think the wall symbolizes so much. Along with "Where does she come from? What does she look like" and so on… Maybe we can ask ourselves these questions that we might not have reflected on so much. It is a piece for children, but it's also for their parents.
Yes, and maybe also for the adults that the children will become, I shoot in. I agree that these questions are important to be exposed to when you're young. Kyrie nods and adds in a serious voice: As soon as you hit a certain age it's very difficult to change a prejudice. The deeper layer of the purpose of this performance is that we need to DO SOMETHING. I want to be able to speak about an important and fragile topic in a beautiful way, but also in a way that does something to them, something which makes them remember, makes them curious. I think that is important in any society.
Kyrie's words resonate. Her thoughts keep echoing through my mind after we say goodbye, and I can feel a sense of hope arising when I think about other adults and children getting access to them.


Photo: Shogo Hirata